Prayer Thoughts – Wednesday 5th August 2020
God of compassion and caring, be with all who seek you, throughout the world. We pray for those who are afraid and do not know what the next day will bring.
We ask you, in our prayers, to be especially close to families who are heartbroken at the loss of a loved one at this time, trusting that they will be aware of the strength of our prayers and feelings of concern.
Amen.

Prayer Thoughts – 29th July 2020
Loving Lord, at times it is tempting to feel so low, especially when things are becoming very difficult. We ask You to help us not to dwell on past setbacks or mistakes but to start again today to look forward with hope and optimism into the future with our faith in You.
Amen.
Prayer Thoughts – 22nd July 2020
Caring and compassionate Lord, we ask for your blessing on our political leaders, and each and every one of us. We pray that You will fill us all with the spiritual strength, humility and wisdom to act with sense and clarity. Let us contribute selflessly and tirelessly towards achieving calm in the lives of those who are particularly fearful and perhaps at risk at this time.
Amen.
Prayer Thoughts – 15th July 2020
Heavenly Father, You are with us at all times, in sorrow, in sickness and in joy. We ask that You hold us in Your loving arms although the world feels full of sorrow and pain at times. We ask that You will support us in all that we face in the weeks and months to come.
Amen.
Prayer Thoughts – 8th July 2020
Caring Lord, be close to all who struggle with the distress and difficulty of life at this time. Loving Heavenly Father we give grateful thanks that we have the security of your everlasting love. Help us to continue to learn the importance of talking to, as well as, listening to ourselves.
Amen.
Prayer Thoughts – 1st July 2020
Loving God, You know how Your son Jesus also struggled with doubts and fears. Help us at such times as these to notice the things that really matter and give us hope for the future. We ask You now for guidance and wisdom in the days and weeks to come.
Amen.

Prayer Thoughts – 24th June 2020
Caring and compassionate God, on this beautiful summer's day we simply praise You and give grateful thanks for all that is good in our lives. We think of the warmth of the sunshine and the glory of the magnificent sunset. We also give You thanks for family and friends who have been separated from us due to this tragic Corona virus, which has affected us all in so many ways. We bring before You in our prayers those who are ill and those who care for them, asking that Your love surrounds each one today and always.
Amen.
Prayer Thoughts – 17th June 2020
Loving Lord,
Each day is full of challenges and possibilities. Help us to believe that we are all capable of great achievements or little things. We pray that we can approach any difficulty, not as a cause of irritation and anger, but as a source of insight and strength.
Amen.
Prayer Thoughts – 10th June 2020
We ask you, Loving God, to grant us the patience to do just what is required of us and to trust that You, in Your wisdom, will bring to realisation that which is already in Your mind and in Your heart.
In our prayers we also ask that You will help to strengthen each one of us at this time of concern for so many.
Amen.

Prayer Thoughts – 3rd June 2020
Caring and compassionate God You have promised to hear us when we pray in faith. Help us to pray, simply and sincerely, unselfishly and gratefully, remembering the needs of others as well as our own, giving thanks always for all things in the name of our Lord. We bring before You now troubles throughout the world at this time, praying for those who have lost their lives and for those in control in every country.
Amen.

Prayer Thoughts – 27th May 2020
Dear Lord, be with us today and go with us into what each day brings. Give us Your comforting presence in all that we do. As always, we thank You for all that is past and trust You for all that is to come. We ask Your blessing on each task we undertake.
Amen.
Prayer Thoughts – 20th May 2020
Let us pray that all of us can find a way to speak today, and in the days to come, that will heal rather than hurt. May we use the power of speech with kindness and care. May we find the strength to make this a habit in our lives each and every day.
Amen.

Prayer Thoughts – 13th May 2020
Caring and compassionate God may our prayers show, with Your help, that our days can be times of healing, belonging, laughter and love, through the ordinary and extraordinary circumstances of our lives. We simply ask that You will walk closely with us day by day.
Amen.
Prayer Thoughts – 6th May 2020
Let us remember that God wants us to pray, to spend time with Him. However hard prayer may seem at times, however reluctant we may be to pray, we must realise that our Loving Father has already poured the gift of prayer into our hearts. He loves us and asks nothing in return but our prayers and our love.
Amen
See our blog post for information on the forthcoming Thy Kingdom Come prayer initiative: https://www.kingcase.co.uk/2020/05/06/thy-kingdom-come-21-31-may-2020/

Christ in Action Food Bank SCO45322 – Update during Covid-19
Our first challenge as lockdown descended on us was the age range of our volunteers. It was so very hard for our committed individuals to follow government instructions and trust that a way would be found to keep the work going. The second was to make the food storage areas safe places for volunteers to work. Replacement volunteers got in touch when they were unable to work, from St James Church and Monkton and Prestwick and we set to make food store safe and continue to support those in need. South Ayrshire Council have been in touch with us right from the start of lockdown enquiring if we needed volunteers and offering food.
We have established a second store at St James Church to continue our support but minimise contact, at Newton Primary School (which has remained open). The School staff can gain easy access to hall for ambient food items. We have, thanks to Grant's of Prestwick delivery, been supplying fresh milk, eggs and fresh fruit and veg and the Tattie Shed near Troon has supplied sacks of tatties. During week commencing 20th April the school provided 355 lunches, 131 food parcels including 18 for Heathfield school and 5 for members of the community. We are so happy to be part of the team of agencies assisting in this area of need in our community. We have continued to support the homeless hostels in Ayr and Troon supplying almost the same items as usual. Demand has dropped as I write this, to average 8 per week.
Please pray for wisdom for the Trustees as we go forward into this new world balancing the safety of our volunteers and the desire to help those in need.
Donations are still urgently needed, and can be either dropped off at a specific address or picked up from your home, which ever is the easiest for you. Just contact us using the following email: foodbank@kingcase.co.uk – a mutually convenient time will be then be arranged.
S.M.
Prayer Thoughts – 29th April 2020
Loving God, we give grateful thanks for the many days we have enjoyed with blue skies and sunshine, which have made our lives more pleasant.
Caring God, You understand all and forgive all. Teach us not to dwell on the past or be filled with fear for the future but rather to live, to the best of our ability, in the present.
Amen.
Church of Scotland Online Services
For anyone wanting to access online services the CoS website has a list of useful links at the following page:
https://www.churchofscotland.org.uk/worship/services-online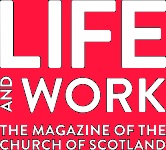 Dear Life and Work Promoter, we trust you are safe and well wherever this reaches you. During this challenging period, Life and Work is committed to helping keep our Christian community connected and so we have made the May 2020 issue available on our website. This can be accessed by clicking visiting https://www.lifeandwork.org/resources/free-download-may-2020
22 April 2020
Loving God, we give thanks that You are with us now. Still our fears and worries. Give us Your peace. Help us to trust You, as always, for everything that the future holds as nothing can separate us from Your love. We bring our prayer to You in the name of the Lord, Jesus Christ.
Amen
15 April 2020
Heavenly Father,
You know the mystery of life and death. You understand our great sadness. Give us the peace of Jesus in our hearts. Also give us courage to face our changed circumstances, and help us to put our faith in You for the future. We ask this in Your Dear Son's Name.
Amen

BBC Religious Sevices
Across the BBC, our network services will include live worship and virtual church services as well as special new content on the BBC's flagship religious strands on TV and radio, as well as providing content to mark the major festivals of worship. There's much more detail to be found on the BBC website, at
https://www.bbc.co.uk/mediacentre/latestnews/2020/easter
and at https://www.bbc.co.uk/mediacentre/latestnews/2020/religion-coronavirus
Good Friday Service of the Nails
Readings and Reflections for Holy Week 2020
Prayer Thoughts – 8 April 2020
We are now in the special time of Holy Week and Easter, but sadly we cannot worship together in our churches. As we think of others throughout the world, we bring them before our gracious God in prayer that He will be close to all. Our prayers are for the many affected by Coronavirus, and also for those who have lost loved ones within our own church family over the last days and weeks.
Please see a link to the Palm Sunday Sermon from the Moderator of the Church of Scotland:-
https://www.churchofscotland.org.uk/news-and-events/news/2020/watch-christians-urged-to-draw-on-faith-to-overcome-fear
Some more resources relevant to Holy Week and Easter:
https://faithandleadership.com/kara-k-root-20-second-gift-washing-your-hands?utm_source=albanweekly&utm_medium=content&utm_campaign=faithleadership
https://faithandleadership.com/deanna-thompson-i-thought-digital-presence-was-poor-substitute-embodied-presence-then-i-got-cancer?utm_source=albanweekly&utm_medium=content&utm_campaign=faithleadership
As we live in uncertain and challenging times here are some thoughts and prayers to help see us through.
1 April 2020
As we come to the beginning of another month in this uncertain and concerning time, let us give thanks to our loving God for the great blessing of family and friends while we struggle with the totally unnatural way of daily life. We can be grateful also for the methods we now have of communication which bring us closer together each day.
Hope you are well and safe,
26 March 2020
Caring and compassionate God, we bring our deep concerns to You in prayer. We ask You to remain close to all at this time of great worry, with so many challenges facing those struggling to cope around the world. We pray with heartbreaking sadness for those who have died, for their families and friends, for the constant work and tireless efforts of medical staff and volunteers everywhere.
Amen.