To view all previous weekly prayers click here.
Prayer Thoughts for Wednesday 19th January 2022
Loving Heavenly Father,
You know that we all struggle with doubts and fears at times.
Help us at such times to notice the things that really matter and give us hope for the future.
We pray also that the people in authority will be able to be concerned with troubles throughout the world and not simply concentrate on our country. We bring before You the situation facing Ukraine as we give You thanks for our blessings.
Amen.
New Year's day prayer from Church of Scotland
A New Year's Day prayer from the Scottish Church Leaders' Forum | The Church of Scotland
Faith Action Programme
In 2022 each issue of Life and Work will host a series of features offering updates from the Faith Action Programme. Readers will hear directly from those who have been charged by the General Assembly to help implement and support this new movement of reformation for the Church.
The purpose of the double page articles will be to try and ensure that those who are involved in being and doing Faith Action where it matters most at congregational level feel involved and supported by the Trustee Forums and staff of both the National Office and Presbyteries.
With members of congregations eager to stay informed, we recognise each of the monthly features will be a valuable resource. Therefore, anyone without access to Life and Work can subscribe via their congregation or the magazine's website https://www.lifeandwork.org/subscribe and choose from a print or digital edition.
Church of Scotland – Kids Advent Calendar
Church of Scotland Kids Advent Calendar
Church of Scotland Worship of the Week:
South Ayrshire Lifeline is your local directory.
Just enter the activity you're interested in, or simply add your town or postcode to discover all the great things going on in your area.
South Ayrshire Lifeline | Things to do in Ayrshire
0800 432 0510
Lines open Mon to Fri 9am – 5pm
Covid-19 – Video from Prof Jason Leitch
'As part of ongoing engagement with the Scottish Government, the Faith and Belief network group asked Professor Jason Leitch to record a short video for use in churches and other places of worship, to outline where we are in the pandemic and why we still have some restrictions. In the video Jason thanks the members of our congregations for all they have done during the pandemic.
I am pleased to say that the Scottish Government have today made the video available to us to use and share widely. You may want to share it with members and your communities online via social media or your own website, or even share it as part of worship. Equally, you may not wish to use it at all.
Alternatively, you may opt to use a version with open captions (where the captions are burned onto the video so everyone sees them). This is now the new normal for videos, especially if you are going to share them on social media as people can scroll past and see the words with their device muted. You can download that version for using on your own platforms.
Celebrate Life and Work Sunday on 29 August and support the magazine of our church
We have pleasure attaching information with details of how you can join us to celebrate the past, present and future of the Church's magazine. Also included you will find details of a special promotion to encourage new subscribers.
Worship resources including a slideshow, exhibition and promotional offer can be found at http://www.lifeandwork.org/resources/life-and-work-sunday
We hope your church will find time on this day to celebrate the magazine of the Church of Scotland. This magazine is now over 140-years old and a precious resource to many.
Your generous time and commitment to supporting Life and Work is invaluable and greatly appreciated and we thank you for your ongoing loyalty.
Worship Update
Changes recently introduced on 19 July by the Scottish Government and Church of Scotland guidelines, regarding the reduction of social distancing measures from 2 metres to 1 metre, has enabled us, with approval received from Ayr Presbytery to offer increase seating at Sunday worship. Capacity within the Sanctuary is now determined by the number of worshippers seated in a 1m safe distanced format. Our increased numbers are now 90 single seated and a maximum of 100 with family members sitting together.
Another small piece of good news to mention, today for the first time we were able to sing in Church, albeit with face masks on, but that aside, it was lovely to hear the singing, which did lift spirits.
Normal Covid-19 restrictions continue to be in place, masks are still required to be worn, and social distancing observed. We will continue to request your name and contact number for the purpose of track and trace, and would therefore ask that you to continue to telephone the office and register your proposed attendance. Office number 01292 470755 on a Thursday/Friday morning, between 9.30 and 12.30. However, if you cannot call and just come along on a Sunday morning, the increase in capacity, should allow everyone wishing to join in Sunday worship to do so.
As always thank you for your continued support.
UN Climate Change Conference of the Parties (COP26)
With the current high profile being given on TV regarding COP26, these article may be of interest to members of the congregation.
Kirk marks 100 days until COP26 | The Church of Scotland
Praying for COP26 and Beyond | The Church of Scotland
For anyone involved and interested in pastoral care ministry in the Church of Scotland, 9 September 2021.
Learn: Regional Conversations on Pastoral Care – Annandale and Eskdale, Dumfries and Kirkcudbright, Wigtown and Stranraer, Ayr, Irvine and Kilmarnock, Ardrossan | The Church of Scotland
Sanctuary Sunday 20 June 2021 – Churches encouraged to take part in Sanctuary Sunday | The Church of Scotland
The Church of Scotland is encouraging congregations to mark Sanctuary Sunday on 20 June as an expression of God's compassionate concern for those seeking refuge around the world.
The Church of Scotland has produced an ecumenical Maundy Thursday Service of worship and communion for us to share with our congregation. The Video premiers at 7:00 pm on Thursday, 1st April.
Church of Scotland Holy Week Resources
CoS has created a digital resource that runs from Palm Sunday to Easter Day – a journey through Holy Week. It will air across the Church of Scotland's various channels at 8am each morning or can be viewed later.
Each episode features a short reflection presented by the Moderator of the General Assembly, together with the appropriate daily reading from John's Gospel, a prayer and a piece of contemplative music. Colleagues from across the Church have contributed these various elements.
As stated, the episodes can be viewed directly from the Church's platforms or you can visit https://stream1.churchofscotland.org.uk/worship/holy-week-2021 to embed them into your own channels, or even download to put on your own website and get specific YouTube links for each day's video to share with your congregation. You'll see that there is a transcript booklet too which can be printed off and given to those who might appreciate the content but would be unable to access the material online.
Kingcase Parish Church will reopen for Worship this Sunday, 28 March 2021.
Following Scottish Government confirmation that Places of Worship can reopen from Friday 26 March 2021, and the updated guidelines received from Church of Scotland, 14 March 2021, we were able to set to work collating and forwarding the necessary documentation required to support our intention to reopen. Happily, Ayr Presbytery replied confirming their support for us to reopen for public worship on Sunday 28 March 2021.
Our seating capacity is still reduced as part of the Covid-19 social distancing requirement.
Please telephone the Church office, 01292 470755 on a Thursday/Friday morning, between 9.30 and 12.30, and Book Your Seat. If we cannot accommodate you on that Sunday, you will be offered the following Sunday's services.
There will be 2 short morning services, 9.45am and 10.45am.
All our previous processes which had been approved for our Church reopening in September, will again be in place. This includes a welcome team to meet and greet you, advise you of the one-way system that is in operation; offer you a facemask and of use hand sanitising products on entry and leaving the building.
We will require to record your contact details; name; telephone number or email address. This will be retained for a maximum period of 28 days. After that period, it will be destroyed.
Kingcase Sunday Service – 21 March 2021
Due to an unforeseen issue, Kingcase Sunday Service for 21 March will not be available to view. Instead, we have provided the link to the CoS Moderator's Sunday Service below
Easter Offerings for Children
Drama Kirk have now put online the first of their Easter offerings for children and young people:

For other resources see their Facebook page:
https://www.facebook.com/DramaKirk
Moderator's service – Sunday 21 Febeuary 2021.
Lent resources from the Iona Community:-
From Dust to Easter Dawn – A reading, reflection and prayer for Ash Wednesday – 17th February.
Fasts and Feasts – Very short readings for each day of Lent/Holy Week.
Lenten Reflections – Weekly Lent reflections upon some of the lesser known characters in the story of Jesus

Moderator's Sunday Service – 14 February 2021
Moderator's Sunday Service – 7 February 2021
Moderator's Sunday Service – 31 Jan 2021
Church of Scotland Moderator's services
Please see the Kirk Services Online page on the Church of Scotland website for details of a list of churches that regularly livestream services or offer them as downloadable recordings.
https://churchofscotland.org.uk/worship/services-online
Links to recent Moderator's Services:-
Church of Scotland Moderator's service – Sunday 10 Jan 2021.
Please see links below for the online service. https://youtu.be/74Ymalwx1E0 (with captions) and https://youtu.be/WDIbiIJ3qqY (without captions).
!– wp:paragraph –>
Prestwick Community Carol Service
The Prestwick Community Carol Service will go 'live' on Thursday 17 December, on You-Tube and Facebook.
A Kingcase representative did a reading – Isaiah 9:1-6.
They have created a new Facebook page and YouTube channel and the links are below.YouTube Channel: https://www.youtube.com/channel/UCaeyZxs2hniHjcscH0CKh5A
Facebook Page: https://www.facebook.com/prestwickcommunitycarols/
We have been asked to encourage as many people to like and share the page as possible that would be amazing.
South Ayrshire Virtual Remembrance
Please find below a link to a South Ayrshire Virtual Remembrance Service that has recently went live on the South Ayrshire Council You Tube page.
Rev David Gemmell was involved in the production and wanted to share this Service for other congregations to make use of or have the opportunity to share on their own Website.
South Ayrshire Virtual Remembrance 2020
Kingcase Church reopening for Sunday Services.
See https://www.kingcase.co.uk/2020/09/19/kingcase-church-re-opening-for-worship-27-september-2020/ for full details.
See our blog post for information on the forthcoming Thy Kingdom Come prayer initiative: https://www.kingcase.co.uk/2020/05/06/thy-kingdom-come-21-31-may-2020/

Christ in Action Food Bank SCO45322 – Update during Covid-19
Our first challenge as lockdown descended on us was the age range of our volunteers. It was so very hard for our committed individuals to follow government instructions and trust that a way would be found to keep the work going. The second was to make the food storage areas safe places for volunteers to work. Replacement volunteers got in touch when they were unable to work, from St James Church and Monkton and Prestwick and we set to make food store safe and continue to support those in need. South Ayrshire Council have been in touch with us right from the start of lockdown enquiring if we needed volunteers and offering food.
We have established a second store at St James Church to continue our support but minimise contact, at Newton Primary School (which has remained open). The School staff can gain easy access to hall for ambient food items. We have, thanks to Grant's of Prestwick delivery, been supplying fresh milk, eggs and fresh fruit and veg and the Tattie Shed near Troon has supplied sacks of tatties. During week commencing 20th April the school provided 355 lunches, 131 food parcels including 18 for Heathfield school and 5 for members of the community. We are so happy to be part of the team of agencies assisting in this area of need in our community. We have continued to support the homeless hostels in Ayr and Troon supplying almost the same items as usual. Demand has dropped as I write this, to average 8 per week.
Please pray for wisdom for the Trustees as we go forward into this new world balancing the safety of our volunteers and the desire to help those in need.
Donations are still urgently needed, and can be either dropped off at a specific address or picked up from your home, which ever is the easiest for you. Just contact us using the following email: foodbank@kingcase.co.uk – a mutually convenient time will be then be arranged.
S.M.
Church of Scotland Online Services
For anyone wanting to access online services the CoS website has a list of useful links at the following page:
https://www.churchofscotland.org.uk/worship/services-online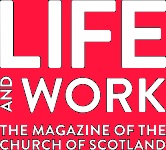 Dear Life and Work Promoter, we trust you are safe and well wherever this reaches you. During this challenging period, Life and Work is committed to helping keep our Christian community connected and so we have made the May 2020 issue available on our website. This can be accessed by clicking visiting https://www.lifeandwork.org/resources/free-download-may-2020
BBC Religious Sevices
Across the BBC, our network services will include live worship and virtual church services as well as special new content on the BBC's flagship religious strands on TV and radio, as well as providing content to mark the major festivals of worship. There's much more detail to be found on the BBC website, at
https://www.bbc.co.uk/mediacentre/latestnews/2020/easter
and at https://www.bbc.co.uk/mediacentre/latestnews/2020/religion-coronavirus
Good Friday Service of the Nails
Readings and Reflections for Holy Week 2020
Please see a link to the Palm Sunday Sermon from the Moderator of the Church of Scotland:-
https://www.churchofscotland.org.uk/news-and-events/news/2020/watch-christians-urged-to-draw-on-faith-to-overcome-fear
Some more resources relevant to Holy Week and Easter:
https://faithandleadership.com/kara-k-root-20-second-gift-washing-your-hands?utm_source=albanweekly&utm_medium=content&utm_campaign=faithleadership
https://faithandleadership.com/deanna-thompson-i-thought-digital-presence-was-poor-substitute-embodied-presence-then-i-got-cancer?utm_source=albanweekly&utm_medium=content&utm_campaign=faithleadership