The Men's Club meets every month as well as having visits to local places of interest such as the Dark Sky Observatory and Prestwick Air Traffic Control.
The Men's Club were at Prestwick ATC Tower on Monday 7 October, and during the visit there was an emergency when a Canadian Airforce P3 Orion reported smoke in cockpit after it landed. A full scale emergency was called and the airport was closed for 25 mins or so! As you can imagine we got our money's worth.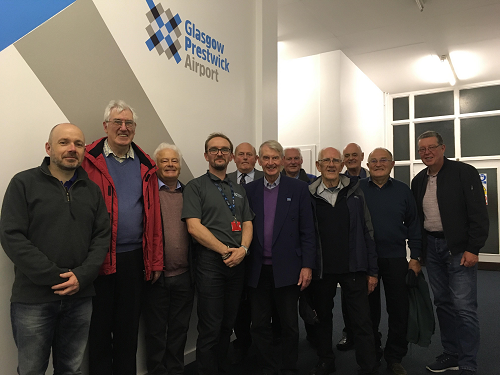 Future meetings are as follows:-
2019
Oct 21. Ronnie Breingan (Culzean Castle)
Nov 4. Ian McAnulla (Political Cartoons)
Nov 18. Father McLean (History of Church Life)
Dec 2. Festive Meal.
2020
Jan 6. Bob McMillan (Ayrshire at War)
Jan 20. Andy Guthrie (Myths of Ancient Scotland)
Feb 3. Jim Irvine (Old Trams of Ayr)
Feb 17. Return of the Football Referees
Mar 2. Dennis Rattenbury (Smugglers)
Mar 18. A.G.M.
Men's Club photographic competition – The results of the photographic competition are now displayed in the large hall, together with the voting figures for each photograph. We hope to have the completed calendars available for sale by 3 November 2019. Thanks to all who took part in the competition,and congratulations to the 12 winning photographs.