Welcome to the website of Kingcase Parish Church.
We are a friendly, welcoming and inclusive congregation which has been serving Prestwick Toll and the wider community for many years.
So whether you are new to the area, a visitor, or just haven't been to church for a while, we would be delighted to see you at one of our Sunday services.
Forthcoming Services at Kingcase: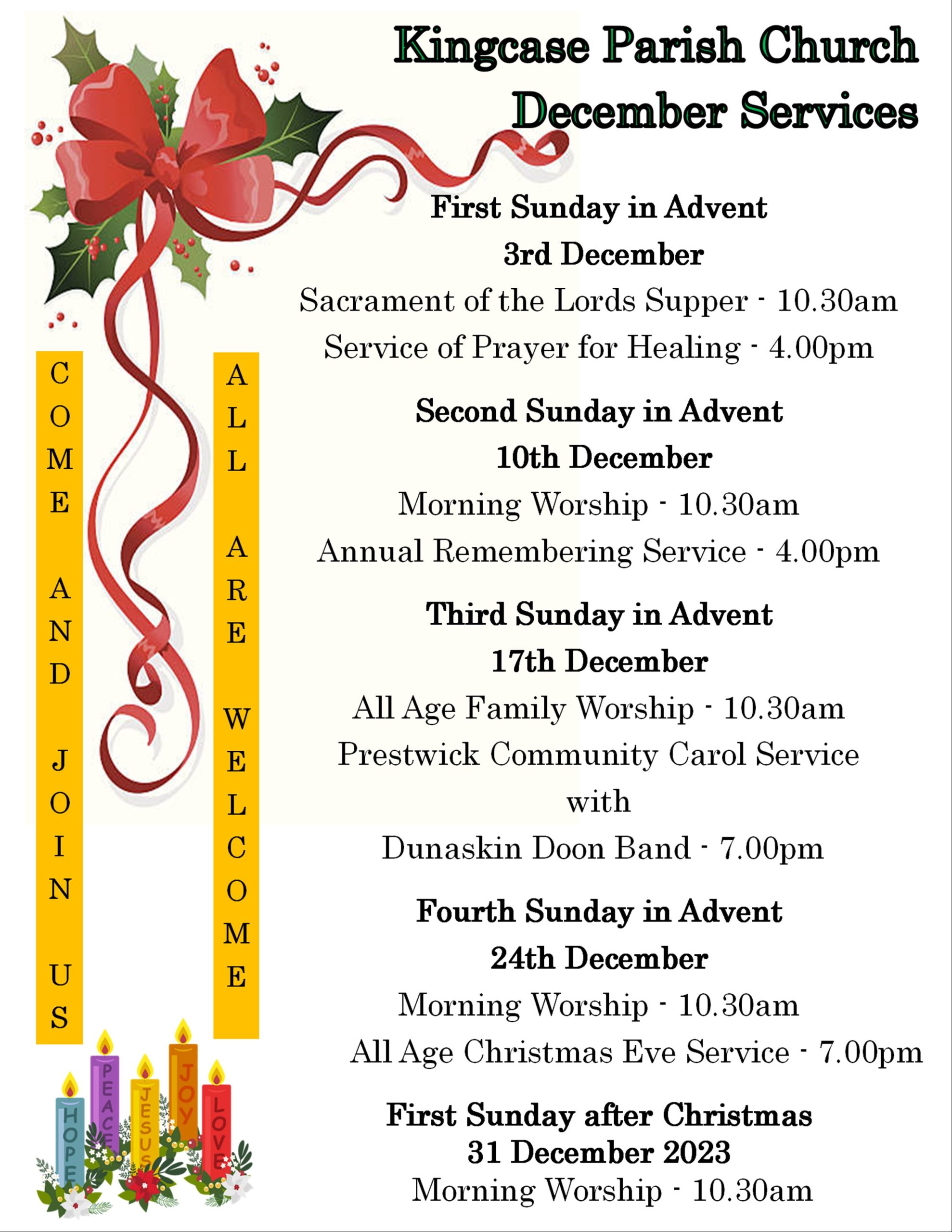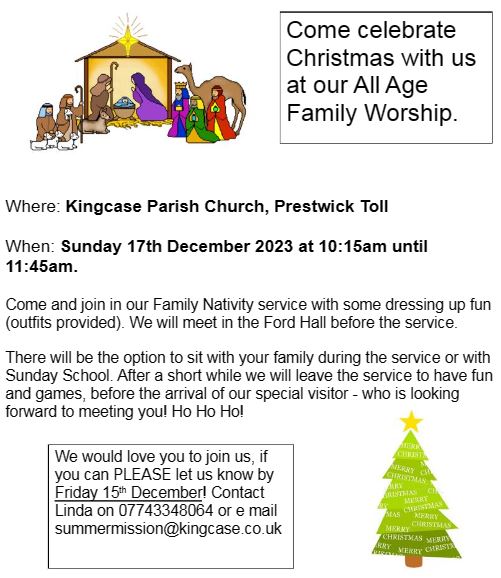 Church of Scotland Advent 2023
Church of Scotland Advent resources for 2023 including downloads and this year's theme inspired by Luke 2:10:
"But the angel said to them, 'Do not be afraid. I bring you good news that will cause great joy for all the people.'"
Click here to go to the CoS Advent Page.
Food Bank Annual Report 2023
http://www.kingcase.co.uk/wp-content/uploads/2023/10/Food-Bank-Annual-Report.pdf
Funday Sunday Club
We hope to have Funday Sunday Club on a more regular basis and any young person between the ages of 3- 11years is welcome on a Sunday morning. The Funday Sunday Club is held in the Ford Hall during the church service 10.30am to 11.30am when we have bible stories, crafts and fun. Children must be registered to attend by an adult. Dates of our meetings will be announced soon. If you would like to register your interest in this and to be kept notified of these dates – please use this e mail summermission@kingcase.co.uk
Looking forward to meeting you soon.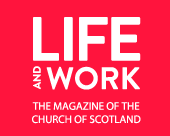 Life and Work has once again published a FREE four page General Assembly Special Supplement for 2023 summarising some of the key decisions, debates and speeches from the week. general-assembly-2023-supplement.pdf (lifeandwork.org)
In addition to the supplement, a General Assembly report will feature in the July issue of Life and Work magazine.
Anyone that is not a subscriber and interested in this particular issue can purchase a single print or digital copy here.

Age Scotland Helpline | Age Scotland (ageuk.org.uk)


0800 12 44 222


The helpline is a free, confidential phone service for older people, their carers and families in Scotland.


St John Scotland Ayrshire & Arran
PATIENT TRANSPORT DRIVERS
We need you!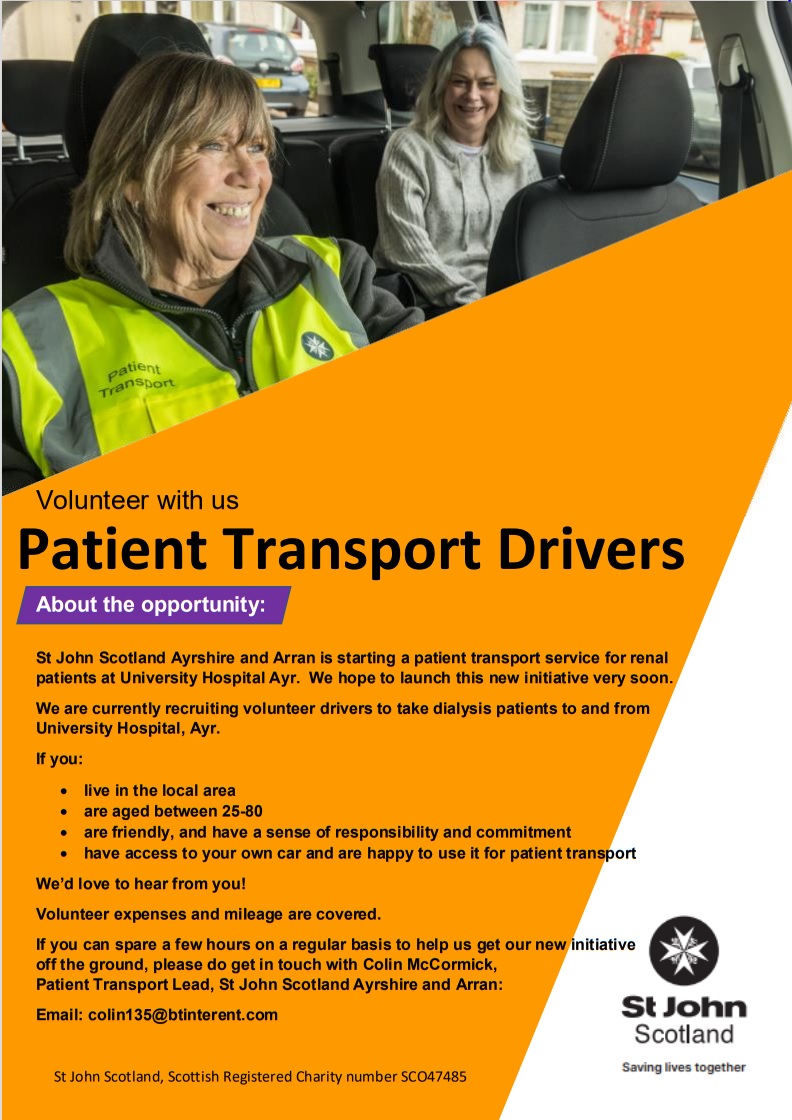 St John Scotland Ayrshire & Arran is starting a patient transport
service for renal patients in University Hospital Ayr.
We are recruiting volunteer drivers to transport dialysis patients to
and from the Renal Unit at University Hospital Ayr. This is a new
initiative, completely free for patients.


All patients are referred to St John Scotland by NHS Ayrshire & Arran.


Volunteer drivers, using their own cars, collect passengers from their
homes in Ayr (initially) at a pre-arranged time, taking them to the
hospital and returning them home afterwards. We pay mileage costs.
A few hours per week is all that we ask. This opportunity is hugely
rewarding.


If you are interested, or have further questions, please make contact
with Colin McCormick, Patient Transport Lead, John Scotland
Ayrshire and Arran:


email: colin135@btinternet.com




Link below from Church of Scotland website, Moderator's article


Call to action to help victims of devastating earthquake | The Church of Scotland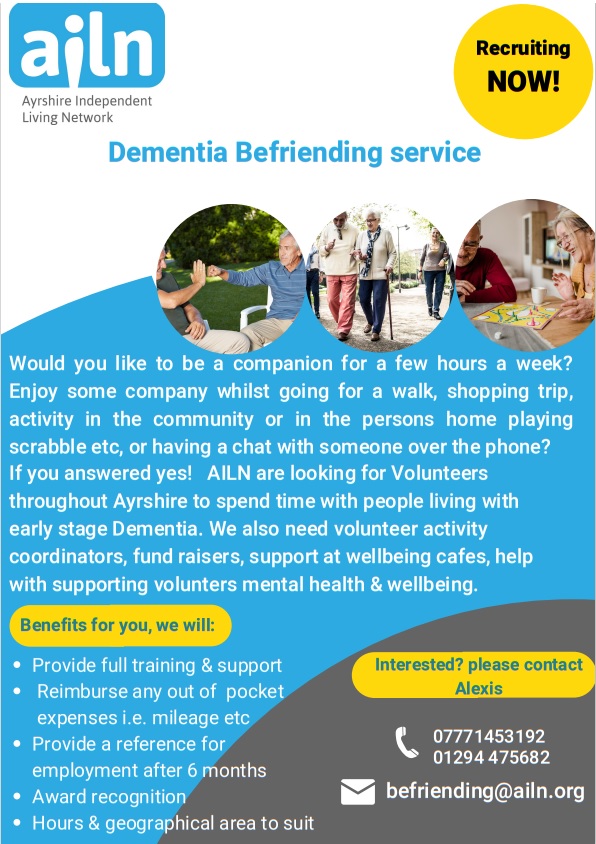 South Ayrshire Lifeline


South Ayrshire Lifeline is your local directory. Just enter the activity you're interested in, or simply add your town or postcode to discover all the great things going on in your area.


South Ayrshire Lifeline | Things to do in Ayrshire


Local Support Services | South Ayrshire Lifeline Services


Lifeline Services | South Ayrshire Lifeline




Age Scotland


Age Scotland is the national charity for older people. We work to improve the lives of everyone over the age of 50 so that they can love later life.


Age Scotland | The national charity for people over the age of 50 (ageuk.org.uk)




Voluntary Action South Ayrshire


Get Involved -Our members work with us to amplify the voice and influence of voluntary health organisations. We welcome new members from all sectors.


Voluntary Action South Ayrshire (VASA) (vhscotland.org.uk)


Data Protection Overview


Please see the link below to the Data Protection Overview, received from The Church of Scotland, which provides guidance for the  congregation.


Data Protection Overview document.




2022 Annual Report for the Christ in Action Foodbank can be found here